ABOUT


HOME


GENERAL


DECODE YOUR VIN


TECHNICAL SECTION


MORE


MORE


LIBRARY


SITE INDEX
My 1962 Ford F100 LWB 'Wrongbed'

November 19, 2016 - Well, it's official! After years of being both a Bumpside ('67-'72) and a Dentside ('73-'79) truck owner, I've been initiated into the world of the Slicks ('61-'66)!
Here's the story...
Ever since I've lived here (20+ years), this '62 Ford F100 has been parked by the local elementary school. Being the father of five young children, I've driven right by this truck at least twice a day for 10 YEARS as I drop the kids off at school in the morning or pick them up again in the afternoon. I'd always wondered about it...whether it was for sale, whether it was even worth buying...but never actually took the first step into checking it out further. But almost without fail, every time I drove by this truck, I admired it and momentarily pictured it sitting in my driveway.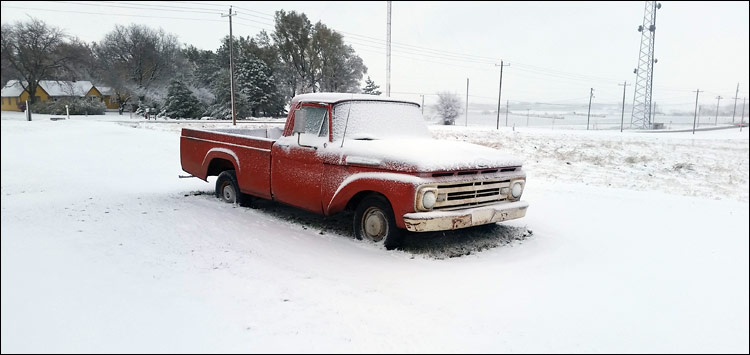 FIG. 01
Well, several evenings ago my wife said she got a text message from her father, who happens to own a '61 Ford F100 unibody truck. He was in the process of replacing the aluminum aftermarket wheels on his truck with the stock steelies. He'd purchased this '62 strictly for the wheels, thinking it would have the original 'innie' style of wheel on it (wheels in which the hubcap snapped onto the inner nubs of the wheel, used on pre-'65 trucks). ...and in the text message wondered if I would be interested in the rest of the truck after he removed the wheels. Of course I said yes!
So the next morning after I dropped the kids off at school, I drove back to this truck and took the picture above, as well as the four below. I'd have taken more, but this was our first snowstorm of the year and it was pretty cold and very windy that day, so I only got a few.
When I first opened the driver's door, the whole door dropped 6 inches. It turns out the lower door hinge was completely broken. I had to lift the door back up in order to properly close it. I noticed the cab steps on both sides were extremely rusty too.

Anyway, the next day my father-in-law called and said he had the truck up on a trailer and was ready to bring it out to my place. He said we could get the truck up on blocks and remove the steel wheels, and then once he got the correct original-style tires mounted on the wheels and onto his '61, he'd just give me the rims/tires that were currently on his truck. However, as soon as he arrived and I was walking around looking at this '62, I noticed the wheels he wanted weren't the 'innie' style, but the 'outie' style used on '65-later trucks. I pointed this out to him, so he said he'd have to look into it further.


FIG. 06

Since the truck had a flat tire, plus he said one wheel was locked up, we wouldn't be able to just push it off the trailer. So I had to have him back up to a tree, where we attached a chain and hooked it up to the truck (FIG. 06), and then just drove the trailer out from under the truck. Within a few minutes we had all the wheels/tires removed, and he left, saying he'd let me know when I could have the wheels/tires from his '61 (FIG. 07).



FIG. 07
Once he left, I spent a few minutes checking this truck out a little closer, as well as taking some more reference pictures. These pictures are just for archival purposes...the 'before' pics, in case I ever decide to do anything with it in the future. The pics aren't the best...they were taken with my cell phone, but good enough for this initial assessment.


FIG. 08

FIG. 09

FIG. 10

FIG. 11

FIG. 12

FIG. 13

FIG. 14

FIG. 15

FIG. 16

FIG. 17

FIG. 18

FIG. 19

FIG. 20

FIG. 21

FIG. 22

FIG. 23

FIG. 24

FIG. 25

FIG. 26

FIG. 27

FIG. 28




The next day I grabbed some wheels/tires I had laying around just to slap on the truck to get it off the blocks, and I snapped a few more pictures:


FIG. 29

FIG. 30

FIG. 31

FIG. 32

FIG. 33

FIG. 34

FIG. 35

FIG. 36

FIG. 37

FIG. 38

FIG. 39

FIG. 40



So, here's where I am at the present...
I'm really not sure what I'm going to do with this truck. I actually already have several other project trucks and didn't really need another one, but when something falls into your lap like this, whatcha gonna do?
Whatever I choose to do, I have some time to figure it out. Since at the present time I don't have a shop to work in, this truck will be sitting at least till spring, when it's warm enough outside for me to work. My initial thoughts are this:
Although the truck is remarkably complete, it's extremely rusted out in the floorpans, cab mounts and radiator support. The engine (a 223 inline 6) isn't locked up, and it's my understanding that the previous owners were driving it until the steering column shaft snapped. This was probably due to the rusted-out cab mounts which put pressure on the shaft until it finally let go.
So...it actually might not take much to get it fired up. IF I can get it running OK, then I might do some quick redneck-type repairs on the floorpans and cab mounts, just enough to lift the front of the cab back up to it's factory location and support it better so I could install a new column shaft. And then just drive it as-is. I'm thinking this truck is actually too far gone to really save, and not worth investing the time and money into, but I'll bet it's still got a few miles left on it before it's ready to be put out to pasture permanently. So if I can make a fun driver out of this with a minimum of investment, I'll do it.
At the very least, I'd have to locate a used steering column/box (they're an integrated unit), and of course change all the fluids, ignition components and do a brake job on it.
I'll leave you with a couple last pictures taken a couple days later, after my FIY gave me his aluminum rims and tires from his '61 to mount up. Kinda gives it a whole new look, doesn't it?


FIG. 41


FIG. 42


I'm not entirely sure if this truck will take me on any new adventures, but we'll find out come Spring 2017...and if it does, I'll be sure to document them here. Stay tuned...

Copyright © 2016-2017 FORDification.info unless otherwise noted. All rights reserved.
All brand names and product names used on this website are trade names, service marks or registered trademarks of their respective holders.
No portion or content of this site may be reproduced or otherwise used without explicit permission.
To report problems or provide comments or suggestions, please click here.